Spanish teacher training for native teachers
Being a teacher is one of the most enriching and fun professions. If you are interested in the field of ELE teaching or are already a teacher and want to get up-to-date on new teaching methodologies and techniques, at International House we have been training Spanish teachers for more than 25 years. In addition, you have the possibility of obtaining a degree endorsed by the University of Barcelona.
30 weekly lessons + authonomous work
4 weeks
Native
Maximum 10, average 6
From Monday to Friday from 09:30 to 13:00 and from 15:00 to 17:30
February, May, September and November
18+
50 minutes
Training for native Spanish teachers in Valencia and online
Is it for me?
If you like teaching and you are thinking of dedicating yourself professionally to teaching Spanish or if you are already a teacher and want updates, our intensive classroom course is perfect.
What am I going to learn?
The program has two parts: a module of theoretical sessions in which you will learn the methodology of teaching Spanish, and a practical module in which you will teach classes to real students while you will be observed by your tutor.
At the end of the course, you will obtain the Certificate of Specialist Teacher in the Teaching of Spanish as a Foreign Language.
How are we going to do it?
The intensive face-to-face course includes 150 hours, of which 120 are of theoretical class and group work and 30 of autonomous work During the course you will complete the "Teacher's Portfolio", which will include relevant samples from the learning journals and practical classes.
To obtain the course certificate, it is mandatory to present the Portfolio, as well as to attend 100% of the theoretical classes and at least 90% of the practical classes.
The course is recognized by IL3 University of Barcelona, graduates who complete the Portfolio and obtain a passing score will be able to opt for this certification.
What do I have to know about my Spanish teacher training course in Valencia?
What do I need to do to reserve my place?
Fill in the application form
Send us a detailed CV.
We will call you to conduct a selection interview.
What schedule will I have?
The course lasts 4 weeks.
Theoretical module: Monday to Friday from 9:30 to 13:00
Practical module (from the second week on): Monday to Thursday from 15:00 to 17:30
When does it start?
The dates for 2023 are:
30th of January – 24th of February
2nd to 26th May
4th to 29th September
30th of October – 24th of November
How much does the programme cost?
The programme has a cost of € 1,390. The degree issued by the University of Barcelona has an added cost of € 100.
● With the application you should pay a deposit of € 250 as a reservation. In case you're not accepted the deposit will be refunded in full.
●The rest of the amount will be paid the week prior to the course starting date.
In the event of cancellation by the participant, a minimum of € 100 will be retained for expenses.
Under no circumstances will there be any refund once the course has started.
How is the course?
The course consists of theoretical sessions and practical classes with comments and feedback from the tutors.
1.- Theoretical sessions:
● Study and reflection on the teaching of a foreign language: objectives and approaches
● Role of the teacher in class
● Group dynamics
● Presentation of new language
● Communication techniques and activities to practice the new language
● Basic questions of foreign language acquisition
● Language skills
● Class planning
● Analysis of teaching materials
● Perspectives of the ELE teacher
2.- Practical classes:
This part has a special importance since it is here where the theoretical aspects learned in the morning sessions are put into practice. Classes are organized with volunteer foreign students of different nationalities and levels.
During the practice the teacher is observed by a tutor. At the end of each class there will be an analysis and an exchange of impressions on the practice carried out.
Price of the teacher training course in Valencia
What do our students think about the Spanish teacher training programme?
Luis del Rey Schnitzler
Teacher of Españolé
Luis del Rey Schnitzler
I attended the teacher training course in Espanole in September 2019. I wasn't really sure how it would unfold, but, in the end, I was surprised. They were not preparing us to teach a conventional class. The idea was to give the best possible class in the shortest time possible, making the most of all available resources, looking for the right word to explain something or for charts, diagrams or drawings that would easily enter through the eyes of the students. Over time you learn that each class is different, as is each student, and applying theoretical knowledge to the letter is not enough. However, you are left with the idea of optimising your time, analysing who is in your class, adapting to them and getting the best out of them as well as yourself.
Rosa Millet
Teacher of Españolé
Rosa Millet
For me, the Spanish teacher training course was a new way of looking at language and language learning. It also opened up a professional field for me that is proving to be very rewarding and enriching. I would recommend it to anyone who loves our language, loves teaching and wants to learn every day in their professional practice.
Ana Clemente
Teacher of Españolé
Ana Clemente
For me, taking the teacher training course has been a real discovery both professionally and personally. Teaching your own language and seeing your students' learning progress in a positive way is very rewarding. Moreover, sharing both experiences and cultures makes teaching Spanish much more interesting and enriching as it is a mutual learning process. For this and many other reasons, I recommend this course to all those who want to enjoy teaching this language and enrich themselves with the multiple cultures that so many countries have to offer.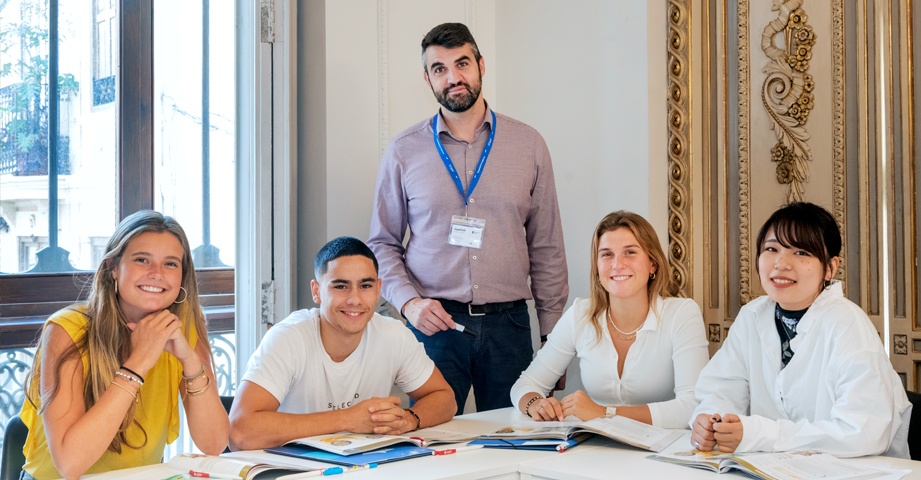 Can we help you?
Contact us if you have any questions.
#1 When can I start my course?
If you are a beginner there are fixed starting dates (approximately twice a month), if you already know a little Spanish you can start any Monday.
#2 What about the method?
Our objective is that our students learn to communicate in Spanish, the method is a combination in order to develop all the skills needed to do so. Depending on the level you will have more or less speaking practice. The higher the level is, more possibility to speak. All the lessons are in Spanish.
#3 Can I change my language level if I have been placed in a level that is too low, or too high?
Yes. If you want to change level, you should first speak with your teacher who will direct you to the Director of Studies for discussion. The teachers will monitor your skills and make any necessary changes.
#4 How will you know my language level?
The first day in school all students take a placement test (except absolute beginners), which will test your reading and speaking as well as grammar and vocabulary. During the course students' progress is monitored closely by the teacher.
#5 Can I change my class timetable once the course starts?
If you want to change your class time, you can do it if there is availability in the class of your choice.
#6 Is there a possibility to change classes according to my progress?
We have 6 levels that can be achieved in 40 weeks, if you progress more than the rest of the group, of course you will jump to another level and could finish a level in less time that it is normally scheduled.
#7 What will my class schedule look like?
Having a morning or afternoon schedule will depend on the places available in the groups of your level. In the morning, classes start at 9:10 and in the afternoon at 14:10. In any case, you will always have half a day free to study, get to know our city and have fun with your friends.
#8 How many weeks can I study?
You can study for as few as one week and as many as you'd like.
#9 How far in advance do I have to register?
You can register at any time, although if you want to be sure that we have places, we recommend that you do it in advance.
#10 How can I enroll?
Simply complete the "online" enrolment form and send it to us.
#11 Will I have the possibility of experiencing the Spanish culture, arts, and entertainment/nightlife?
You have all the possibilities of doing this here, it's up to you. We offer Spanish culture, art and history lessons, organize groups for cultural visits once a week and organize outings at night (for dinner, cinema…) In addition, Valencia has an intense cultural and social life that you can enjoy during your stay.
#12 Do I need to bring any textbooks with me?
No, we'll give you a book (your enrolment fee includes this first book), all the other books and materials you will need to use are available in the classroom.
#13 What courses do most people take?
#14 Will I take exams?
Internal exams are held at least once a month and at the end of each level in order to monitor your progress.
#15 Will Españolé prepare me to take any official exams?
Yes, we prepare you for the DELE (Diploma de Español como Lengua Extranjera) and SIELE (Servicio Internacional de Evaluación de la Lengua Española). They are administrated by the Ministry of Education and Science and are the official Certificates verifying the apprehension of Spanish as a foreign language. There are six levels of the DELE, from A1 to C2.
#16 Can I study business Spanish?
Yes, we offer a Business Spanish course. It is suitable for students on higher intermediate or advanced levels.
#17 Can I have private lessons?
You can book a private course from 1 weekly class as a single course or as a complement to any of the other courses. The content of the class will be tailored to your specific needs and the skills you need to reinforce.
#18 Do I get a diploma after the course?
At the end of each course you will get a certificate about type, duration and reached level.
#19 Can I get credits with the Spanish course?
We are an accredited centre by the Cervantes Institute, which is the official entity for the Spanish language in Spain, many of our students receive credits from their universities after taking a course with us.
#20 How can I pay?
We offer several options: by bank transfer in € or by credit card.