Dele
If you want to take the official exams of the Instituto Cervantes Dele and Siele, at Españolé we will help you to achieve your goal successfully.
We have a 98% approval rating among the students who have completed our preparation programmes, you can do it too!
20 preparation classes for the Dele exam
Between 1 and 4 weeks
from absolute beginner to advanced (A2 to C1)
Maximum 10, average 6
Mornings or afternoons, from 9:10 - 13:00 or from 14:10 - 18:00
20/03, 17/04, 12/06, 18/09, 23/10
From 16 y.o.
50 minutes
The Dele exam preparation programme
Is it for me?
Yes, if you want to obtain an internationally recognized official qualification organized by the Instituto Cervantes, which endorses your knowledge of Spanish. Preparation courses take place 5 times a year, starting 4 weeks before the exam. Students can take the entire course (which is recommended) or just a part of it. Students can take the entire course (which is recommended) or just a part of it.
What am I going to learn?
You will work on all the contents that appear in the Dele exam in a practical and enjoyable way and train your Spanish skills that will enable you to pass the exam.
How are we going to do it?
In class we work with real exams. They are totally practical classes designed so that you know the exam methodology well and have all the tools to succeed.
What do I need to know about my Dele course and exam?
Dele is the official Spanish Diploma and it is recognized internationally. It is used to officially prove your command of Spanish. It serves to advance professionally and improve your CV. It is very important for people who want to work and study in Spain and Latin America.
When does it start?
The courses start 4 weeks before the exam The start dates in 2023 are: 20/03, 17/04, 12/06, 18/09 and 23/10.
What schedule will I have?
Mornings or afternoons, from 9:10 – 13:00 or from 14:10 – 18:00 (Timetable subject to change)
What is the minimum age required for the programme?
What level of Spanish do I need to have?
You must have reached the level you want to test yourself for. The course will help you become familiar with this type of exams and prepare you to pass it.
How long is my programme?
When is the exam?
The exam dates for 2023 are:
17th February (registration deadline 11/01/23)
14th April (registration deadline 15/02/23)
13th May (registration deadline 15/03/23)
7th July (registration deadline 10/05/23)
8th September (registration deadline 12/07/23)
13th October (registration deadline 06/09/23)
18th November (registration deadline 11/10/23)
How is the exam?
The exams are organized by levels from A1 to C1 The exam assesses all language areas using different tests: reading, comprehension, listening, speaking, writing, grammar and vocabulary. Our school is a recognized testing center, so the exam will take place in our classrooms.
If you need more information regarding the content for each level, you can get it here.
How do I register for the exam?
The student has to register for the exam by filling the online registration form in this link: examenes.cervantes.es.
How can I find out which level I should enroll in?
When you register for the Dele course, we will send you a level test that you must take and it will help us to assess your level of Spanish. Once corrected, we will recommend the level of the Dele exam most suitable for you.
The results of the exams
The results take around 12 weeks to be published, after which they can be checked at: examenes.cervantes.es. You will need your registration number and your date of birth,
Between 1 and 4 weeks
270 €
per week
What is your Spanish level?
Españolé offers you the most appropriate Spanish program for your level.
A1 – Beginners
Students can deal with simple straightforward exchanges in familiar contexts. They can usually understand enough to keep a very basic conversation going.
A2 – Pre-Intermediate
Students can understand and express information about the present, past and future. They can deal with most situations involved in travelling around a Spanish speaking country, including communicating most personal and everyday information.
B1 – Intermediate
Students can comfortably interact with native speakers. They can participate in discussions and express their viewpoints in familiar contexts. They can describe experiences in their past as well as explain and give reasons for their plans, desires and ambitions for the future.
B2 – Upper-intermediate
Students can express their ideas on general topics clearly in both the spoken and written form. They are familiar with and can competently use more complex structures and have a good level of fluency andbroader vocabulary including some idiomatic expressions.
C1 – Advanced
Students are capable of understanding most lectures, discussions and debates. They are able to develop a well-structured argument with supporting evidence and explanations in oral and written form. Students have broadened their general language capability and vocabulary to feel comfortable operating effectively in social, academic and professional spheres.
C2 – Superior
Students have a high level of written and spoken Spanish They can participate easily in discussions and write well- structured compositions even on complex, unfamiliar situations. They can give clear presentations on complex issues, integrating sub themes and developing particular points.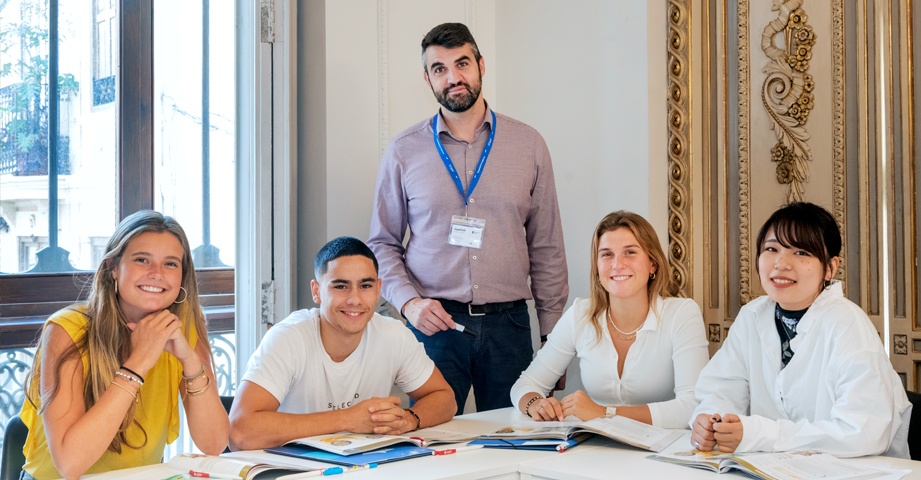 What do our students think about the Dele preparation programme?
Lina Matera
Student of Españolé
Lina Matera
I have been at Españolé International House of Valencia to prepare my Spanish exam DELE B2. I am enthusiast about this School. Everything was top grade: Valencia itself, the location of the school, the teachers and the organisation. I made the perfect choice.
Abby Han
Student of Españolé
Other Spanish courses
Our most popular courses
Can we help you?
Contact us if you have any questions.
#1 How can I obtain a Dele exam certification?
With our preparation courses for the official Spanish Dele exam, you will be able to obtain the official Dele certification.
#2 What about the Dele exam preparation method?
Our objective is that our students learn to communicate in Spanish, the method is a combination in order to develop all the skills needed to do so. Depending on the level you will have more or less speaking practice. The higher the level is, more possibility to speak. All the lessons are in Spanish.
#3 When can I take my Dele exam preparation in Valencia?
There are set dates that the Dele exam takes place in Valencia throughout the year.
#4 How many weeks can I study a Dele exam preparation?
If you decide to choose our preparation course for the official Dele exam, the preparation courses can last between 1 and 4 weeks.
#5 What will my class schedule look like in an Spanish exam preparation?
Having a morning or afternoon schedule will depend on the places available in the groups of your level. In the morning, classes start at 9:10 and in the afternoon at 14:10. In any case, you will always have half a day free to study, get to know our city and have fun with your friends.
#6 How far in advance do I have to register to a Dele exam preparation?
You can register at any time, although if you want to be sure that we have places in the Dele exam preparation programme, we recommend that you do it in advance.
#7 Can I have private lessons in the Dele exam preparation?
We offer group classes for the DELE preparation exam, with a maximum of 10 students and and average of 6 students.
#8 How can I pay a Dele exam preparation?
We offer several options to pay our Dele exam preparation programme: by bank transfer in € or by credit card.
#9 How to study for a Spanish Dele exam?
At Españolé, our exam preparation course will prepare you for the exam focusing on all the fundamental skills of Spanish that you will need.
#10 How can I enroll to a Dele exam preparation programme?
Simply complete the "online" enrolment form and send it to us.