Demipair
There is nothing better than living with a family to learn about Spanish life, traditions and culture. The Demi Pair programme is designed so that you can make the general Spanish course compatible with your activity by supporting a Spanish family with childcare mainly. Your Spanish family will be happy to welcome you! Are you ready?
20 classes
From 12 weeks
Absolute beginner to fluent (A1 to C2)
Maximum 10
Morning from 09:10 - 13:00 or afternoons from 14:10 - 18:00
Every Monday except for beginners.
From 18 years old
50 minutes
Demi Pair programme in Spain
Is it for me?
If you are a family person, you like children and you want to spend a season in Spain and learn the language, the Demi Pair programme is designed for you. You will have accommodation, meals and an amount for expenses covered in exchange for your collaboration in the daily family tasks related to education and taking care of the smallest of the house.
What am I going to learn?
El programa Demi Pair en Valencia incluye 12 semanas de curso de español Intensivo 20 que si quieres puedes ampliar a todo el tiempo que dure tu estancia en España. Es importante para las familias que los niños puedan practicar un idioma extranjero, generalmente el inglés, pero también entienden que tu objetivo es aprender español. Y te van a ayudar en todo lo posible para que lo consigas.
How are we going to do it?
The Demi Pair programme includes 20 hours of work per week, plus a babysitting night.
You will enjoy two full days off per week.
You will have your own room, full board and a small amount of money for expenses.
Spanish classes are in the morning and work hours are generally in the afternoon and evening.
What do I need to know about my Demi Pair programme in Spain?
When does it start?
Every Monday if you already know some Spanish. If you are an absolute beginner, check the start dates.
What schedule will I have?
You will agree with the family your work schedule. Normally you will have Spanish classes from Monday to Friday in the morning, from 09:10 to 13:00 and in the afternoons plus one day of the weekend you will collaborate in looking after the little ones in the house.
What is the minimum age required for the programme?
Between 18 and 30 years old.
What level of Spanish do I need to have?
How long is my programme?
What will my daily tasks be?
Take care of the children, take them to the park, play with them in English
or in your native language, pick them up from school, help them with homework, take them to extracurricular activities, put them to bed, read them a story….
Prices for Demi pair programme
What is your level of Spanish?
Españolé offers you the most appropriate Spanish program for your level.
A1 – Beginners
Students can deal with simple straightforward exchanges in familiar contexts. They can usually understand enough to keep a very basic conversation going.
A2 – Pre-Intermediate
Students can understand and express information about the present, past and future. They can deal with most situations involved in travelling around a Spanish speaking country, including communicating most personal and everyday information.
B1 – Intermediate
Students can comfortably interact with native speakers. They can participate in discussions and express their viewpoints in familiar contexts. They can describe experiences in their past as well as explain and give reasons for their plans, desires and ambitions for the future.
B2 – Upper-intermediate
Students can express their ideas on general topics clearly in both the spoken and written form. They are familiar with and can competently use more complex structures and have a good level of fluency andbroader vocabulary including some idiomatic expressions.
C1 – Advanced
Students are capable of understanding most lectures, discussions and debates. They are able to develop a well-structured argument with supporting evidence and explanations in oral and written form. Students have broadened their general language capability and vocabulary to feel comfortable operating effectively in social, academic and professional spheres.
C2 – Superior
Students have a high level of written and spoken Spanish They can participate easily in discussions and write well- structured compositions even on complex, unfamiliar situations. They can give clear presentations on complex issues, integrating sub themes and developing particular points.
¿Qué opinan nuestros alumnos del programa Demi Pair?
Nikolai Ionesku
Student of Españolé
Nikolai Ionesku
The school is very very good and interesting. The teachers are kind, intelligent. People are good and communicative.
Andrey Slotin
Student of Españolé
Andrey Slotin
This is probably the best place to learn Spanish in Valencia. I've spent 2 weeks there and now I can actually understand people talking to me and even respond in a way that makes sense! Thanks for the great time y recuerdos a todos los maestros!
Noë Beril
Alumno de Españolé
Noë Beril
I spent almost 4 months in Españolé with just incredible teachers of extraordinary kindness and support, which allowed me to reach level B2 to enter a university in Spain!! I am thinking particularly of MARIA JOSE, LETICIA, PILAR, JAVIER and many others who are just golden people, thank you again if you read this message. I had a great time in this beautiful city of Valencia! The school is just beautiful, so there is a great environment to learn. In addition, the staff is great, and does not hesitate to help students in their external procedures. I am thinking particularly of CONI, who helped me a lot and defended me in a somewhat complicated moment. In addition, the school is adapting superbly well to the health crisis by finding very professional solutions. Thanks again for everything !
Luca Eigenmann
Student of Españolé
Luca Eigenmann
Good location, beautiful school, the best people, beautiful city! The best conditions to learn Spanish. I can only recommend it. 😎🇪🇸
Daisuke Matsuoka
Student of Españolé
Daisuke Matsuoka
I studied at Espanole International House for about half a year. I had been studying Spanish for two years at university, so I thought I would be fine. However, the level was higher than I expected and I could barely catch up with each day of preparation and revision. But thanks to the kind and enthusiastic teacher, my Spanish skills have steadily improved! All my friends at school are so nice and kind that we went out to eat together after school and partied on weekends! Every Monday there was an exchange between Japanese and Spanish, so I was able to use a lot of Spanish. The food was delicious, the people were friendly and Valencia was a very good city! I definitely want to come back! !!
Nadine Beloch
Student of Españolé
Nadine Beloch
International House Valencia is the place where people from all over the world meet and pursue a goal: to learn Spanish. I spent eight weeks in this school and it was probably the best school time of my life.
Patricia Batová
Student of Españolé
Patricia Batová
Thanks to International House, I broke my fear of speaking Spanish, met a lot of amazing people, a beautiful city and a home culture. I visited the school for the first time in 2012 and it was immediately clear to me that I was not there for the last time. The time I spent in Valencia far exceeded my expectations and I recommend anyone considering this option not to hesitate.
Andrew Bob Fitzpatrick
Student of Españolé
Andrew Bob Fitzpatrick
Kisses from Australia XXX Hi, guys! My name is Bob, I am a Capricorn. I miss you so much! I want to go back to Spain very soon, but Valencia is a long way from Australia. Besides, I haven't won the lottery yet. Nobody here speaks Spanish, so I have already forgotten a lot. I think I need to enrol in school again. I'm looking forward to it! My nieces love to dance in the flamenco dresses, they look beautiful! The teachers at IH Valencia are the best in the world!!! I will never forget!
Simone Schmatz
Student of Españolé
Simone Schmatz
Hello! My name is Simone and I am German. I was in school for almost 3 months. It was a very good time for me. I liked the school very much and the teachers are very nice. The classes were fun and I learned a lot. My level of Spanish has improved a lot. Also, whenever I had a question or a problem, someone always helped me. I have never been bored because they offer a lot of activities.
Benedetto D'Alfonso
Student of Españolé
Benedetto D'Alfonso
The school is wonderful. Everyone works and they are always smiling. The organisation is excellent, the support is completely individualised. The attention you receive, the immediate problem solving, the happy atmosphere and the wide variety of activities on offer make you want to come back to repeat the experience. Thank you all for making me feel like family!
Patrick Stulz
Student of Españolé
Patrick Stulz
The school is super cool! The teachers are very kind, friendly etc. (I don't think there are enough positive adjectives to describe them).
Other Spanish Intensive courses
Our most popular courses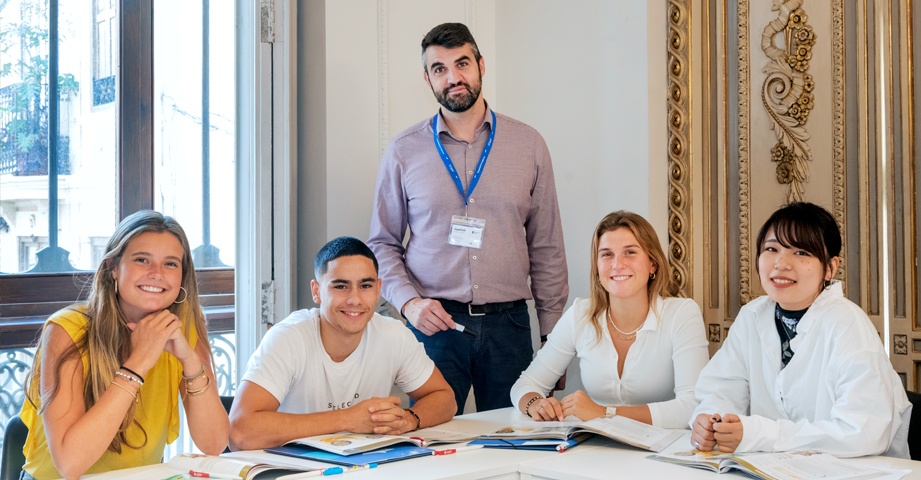 Can we help you?
Contact us if you have any questions.
#1 When can I start my course?
If you are a beginner there are fixed starting dates (approximately twice a month), if you already know a little Spanish you can start any Monday.
#2 What about the method?
Our objective is that our students learn to communicate in Spanish, the method is a combination in order to develop all the skills needed to do so. Depending on the level you will have more or less speaking practice. The higher the level is, more possibility to speak. All the lessons are in Spanish.
#3 Can I change my language level if I have been placed in a level that is too low, or too high?
Yes. If you want to change level, you should first speak with your teacher who will direct you to the Director of Studies for discussion. The teachers will monitor your skills and make any necessary changes.
#4 How will you know my language level?
The first day in school all students take a placement test (except absolute beginners), which will test your reading and speaking as well as grammar and vocabulary. During the course students' progress is monitored closely by the teacher.
#5 Can I change my class timetable once the course starts?
If you want to change your class time, you can do it if there is availability in the class of your choice.
#6 Is there a possibility to change classes according to my progress?
We have 6 levels that can be achieved in 40 weeks, if you progress more than the rest of the group, of course you will jump to another level and could finish a level in less time that it is normally scheduled.
#7 What will my class schedule look like?
Having a morning or afternoon schedule will depend on the places available in the groups of your level. In the morning, classes start at 9:10 and in the afternoon at 14:10. In any case, you will always have half a day free to study, get to know our city and have fun with your friends.
#8 How many weeks can I study?
You can study for as few as one week and as many as you'd like.
#9 How far in advance do I have to register?
You can register at any time, although if you want to be sure that we have places, we recommend that you do it in advance.
#10 How can I enroll?
Simply complete the "online" enrolment form and send it to us.
#11 Will I have the possibility of experiencing the Spanish culture, arts, and entertainment/nightlife?
You have all the possibilities of doing this here, it's up to you. We offer Spanish culture, art and history lessons, organize groups for cultural visits once a week and organize outings at night (for dinner, cinema…) In addition, Valencia has an intense cultural and social life that you can enjoy during your stay.
#12 Do I need to bring any textbooks with me?
No, we'll give you a book (your enrolment fee includes this first book), all the other books and materials you will need to use are available in the classroom.
#13 What courses do most people take?
#14 Will I take exams?
Internal exams are held at least once a month and at the end of each level in order to monitor your progress.
#15 Will Españolé prepare me to take any official exams?
Yes, we prepare you for the DELE (Diploma de Español como Lengua Extranjera) and SIELE (Servicio Internacional de Evaluación de la Lengua Española). They are administrated by the Ministry of Education and Science and are the official Certificates verifying the apprehension of Spanish as a foreign language. There are six levels of the DELE, from A1 to C2.
#16 Can I study business Spanish?
Yes, we offer a Business Spanish course. It is suitable for students on higher intermediate or advanced levels.
#17 Can I have private lessons?
You can book a private course from 1 weekly class as a single course or as a complement to any of the other courses. The content of the class will be tailored to your specific needs and the skills you need to reinforce.
#18 Do I get a diploma after the course?
At the end of each course you will get a certificate about type, duration and reached level.
#19 Can I get credits with the Spanish course?
We are an accredited centre by the Cervantes Institute, which is the official entity for the Spanish language in Spain, many of our students receive credits from their universities after taking a course with us.
#20 How can I pay?
We offer several options: by bank transfer in € or by credit card.